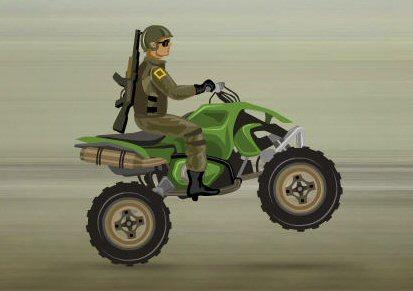 Army Rider Game
Online games indeed most loved by kids or even adults for past time. This is a network where you can find different games to play on. These online games have common similarities such as gaining points through passing obstacles and finish the game with corresponding high scores.
Race excites more kids either a car or motorbike races. Army Rider is an online game classified as race game. Here you earn points by collecting all the stars in the mountain. Make some good stunts while the area is clear and gives you chance. Since you play in mountain you need to avoid mines.
To control your army rider, here are the arrow keys you need to use. The up and down arrow keys are intended for the direction and speed of your bike. The left and right arrow keys are for the lean and balance of your bike.
Play this wonderful game with your friends. Don't forget that this game puts you behind enemy lines and coerce you to fight for your life at all times. Hurry up and enjoy this game.